In this section...
Contact Us
The Good Shepherd Catholic Primary School
Kingsland Gardens
Northampton
NN2 7BH
Tel: 01604 714399
Fax: 01604 714672
During Covid-19 school closure, if you cannot get through to the school office, please contact staff on (between 10am - 2pm):
07511 224193
07511 224676
Headteacher: Mrs Carmel Dodds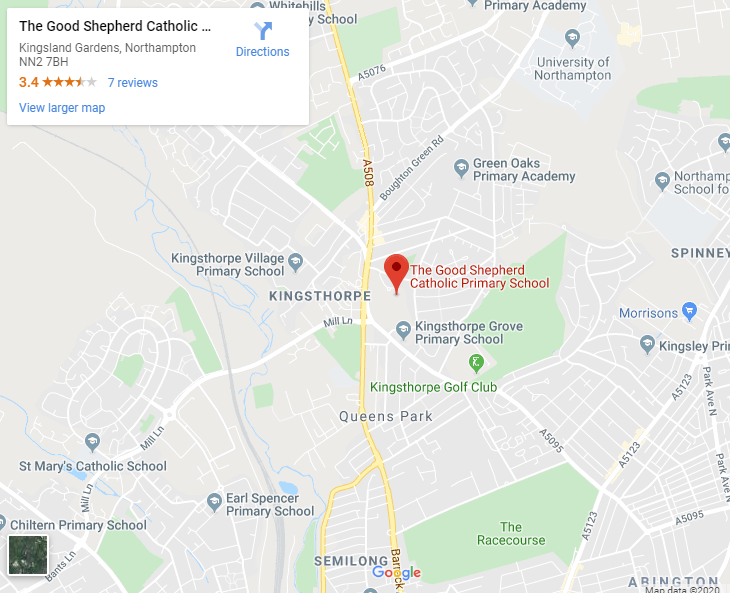 Please contact School Administrator Mrs A Treadgold Nelson for general enquiries:
E: admin@thegoodshepherd.northants.sch.uk
SENCO: Miss Amanda Green (please send all enquiries through to the email address above)
Chair of Interim Improvement Board: Mrs Catherine McCarron (Should you wish to contact the IIB you can do so via the Clerk, Mrs. Teresa Elkin via email: clerk@stccat.org)
Please submit all enquiries to the Main School Office.
Part of the Our Lady Immaculate Catholic Academies Trust (OLICAT Schools)
Follow us on Twitter @olicatschools and on Facebook @olicatschools
can be contacted at:
c/o St Thomas More Secondary School
Tyne Crescent
Bedford
MK41 7UL

E: info@olicatschools.org
T: 01234 334635
Paper copies of any information found on this website can be provided free of charge, on request.