In this section...
Contact Us
The Good Shepherd Catholic Primary School
Kingsland Gardens
Northampton
NN2 7BH
Tel: 01604 714399
Fax: 01604 714672
During Covid-19 school closure, if you cannot get through to the school office, please contact staff on (between 10am - 2pm):
07511 224193
07511 224676
Headteacher: Mrs Carmel Dodds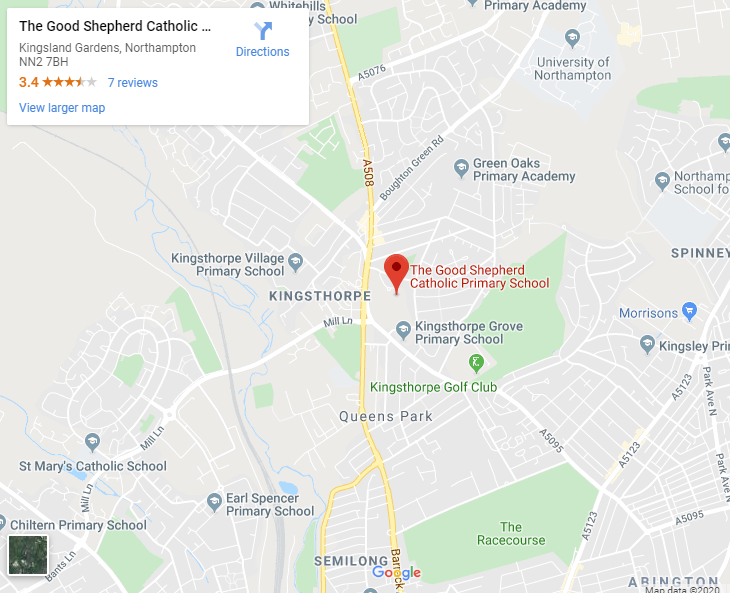 Please contact School Administrator Mrs A Treadgold Nelson for general enquiries:
E: atreadgold@thegoodshepherd.northants.sch.uk
SENCO: Miss Amanda Green (please send all enquiries through to the email address above)
Chair of Interim Improvement Board: Mrs Catherine McCarron (Should you wish to contact the IIB you can do so via the Clerk, Mrs. Teresa Elkin via email: clerk@stccat.org)
Please submit all enquiries to the Main School Office.
Sponsor: The Good Shepherd Catholic Primary School is part of the St Thomas of Canterbury Catholic Academies Trust (STCCAT) who can be contacted at:

The STCCAT Office
Thomas Becket Catholic School
Becket Way
Kettering Road North
Northampton
NN3 6HT
Paper copies of any information found on this website can be provided free of charge, on request.