In this section...
Admissions
We are delighted that you are considering The Good Shepherd for the next step in your child's education.
This is the school where futures are made, where we set out to excite, enthuse and inspire our children to achieve great things in life.
If you would like to book a tour of our school please contact the school office on 01604 714399, where we will be happy to arrange an appointment for you.
Information on school admissions can be found on the Northamptonshire County Council website, by telephoning 0300 126 1000 or email admissions@northamptonshire.gov.uk
For more information on the School's admission arrangements please refer to the appropriate policy below.
Please note: All applications must include a Supplementary Information Form, and if you are Catholic or Christian please also complete a Parish Priest or Pastor's Reference Form. These forms can be downloaded below.
Appeals
We have 60 places in our Reception Year, if we are oversubscribed, places will be allocated in accordance with our Admissions Policy which also includes information about appeals arrangements, this policy can be found on this website and also includes our appeals arrangements.
In Year Applications
If you are moving into the area or would like to move your child to our school, please contact Admissions Dept at the LEA on 0300 126 1000 or follow the link here.
Reception 2022
Does your child turn 4 on or before 31st August 2022?
If so, it's time to start thinking about applying for their reception school place!
Please find below important information from West Northamptonshire County Council. You can also find information HERE.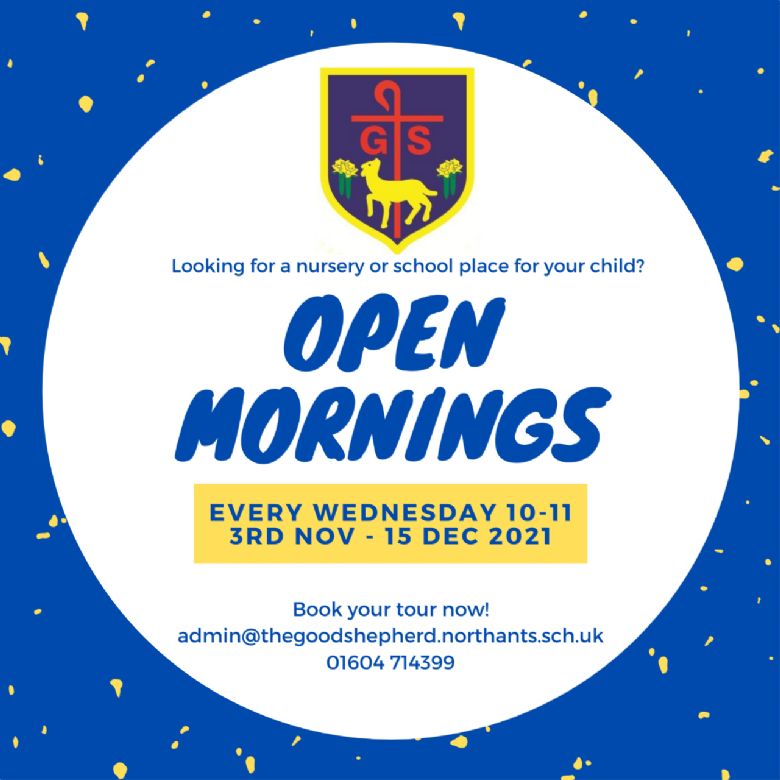 Join us for one of our Open Mornings - each Wednesday from 10am-11am during November and December (term time only).
To book your space on a tour, please contact the school by e-mailing atreadgold@thegoodshepherd.northants.sch.uk or calling on 01604 714399.
December 2020: We are consulting on our admission arrangements for 2022. Please see the consultation document below.
Please forward any comments to info@olicatschools.org. Thank you.