In this section...
VE Day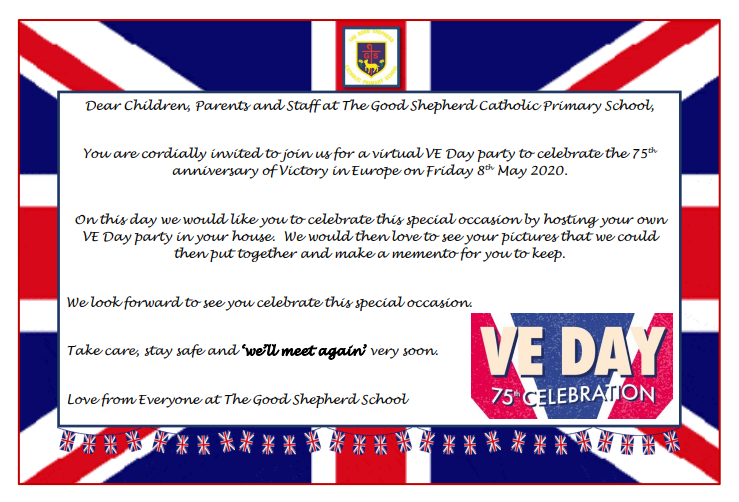 Mrs Miller has put together lots of fantastic resources to help your learn about VE Day in preparation for our virtual VE Day Party on Friday 8th May 2020, marking the 75th anniversary of the special day.
Watch her video below:
Don't forget to learn the lyrics to 'We'll Meet Again' by Vera Lynn, and send us your video by Monday 4th May 2020 to admin@thegoodshepherd.northants.sch.uk. Listen to the song by watching the video below. You can download the lyrics in the document at the bottom of the page.
If you scroll to the bottom of this page, there are some home learning worksheets attached for children to complete. Mrs Miller has attached a 'Morse code' worksheet. Can you write her a message in Morse Code, using the alphabet translation?
There are 3 worksheets from Twinkl, one for KS1 children and another for KS2 as well as a code breaking exercise. Mrs Miller has also put together some ideas for our EYFS children . Please share your home learning with us via e-mail or social media.

Some helpful links to inspire your party planning:
Menu's, recipe and music playlist ideas - https://ve-vjday75.gov.uk/plan-your-ve-day-party/?fbclid=IwAR3uMxs2KkTsTArz92kIxmKxP3RENcoFz8scnRSIHIxH6Ajw4a2QkuU9b0M
VE Day at home packs which includes recipes, tips for learning the Lindy Hop, bunting and posters - https://www.english-heritage.org.uk/ve-day?fbclid=IwAR2Xnrvn0k2C-stiEa4mmE9KswvysuZMXTjTBMASkJ7XQSRhKsOF0eqPcHM
Downloadable party packs that include; window posters and colouring, bunting templates, selfie props, cupcake toppers, flags, party game suggestions and VE day invitations​​​​​​ - https://www.artventurers.co.uk/the-big-neighbourhood-v-e-day-family-festival/?fbclid=IwAR0mrWz3k8ygoWvq9abP9KQZGxdUnGCH4nsyoGJnG2OsuIeWIVNh60S3E_o
Bunting download - https://drive.google.com/drive/folders/1ASiV52ZzLAoXYA8GG7-00q-w171VVrDW
Colouring in download - https://drive.google.com/drive/folders/1SJ3X2Akw7yzllzV2DwUSfCf-4AlxN6fZ

Home Learning ideas:
https://www.mrtdoeshistory.com/75th-anniversary-ve-day
Video lessons and activities for KS1 and KS2. 'How is VE day remembered by those that were there?'
https://ve-vjday75.gov.uk/veday/
Watch veteran Mervyn's story.
https://winstonchurchill.org/resources/speeches/1941-1945-war-leader/to-v-e-crowds/
Listen to Winston Churchill (Prime Minister at the time), deliver his speech to the crowds in Trafalgar Square, London, on VE day, 1945.
https://www.bbc.co.uk/teach/class-clips-video/history-ks2-ve-day/z7xtmfr
A short film that explains what VE day and VJ day were and the events that led to the end of the war.
Read about Mrs Bowen's Mother in Law real life experience of being an evacuee during the war - the document can be found at the bottom of the page.
Horrible Histories VE Day song - https://www.bbc.co.uk/cbbc/watch/horrible-histories-songs-ve-day-song

Photo below: VE Day celebrations in Pitsford kindly sent by Miss Boshell. Would any of your relatives have been there?